1.
Border Reiver
4:35
2.
Hard Shoulder
4:34
3.
You Can't Beat The House
3:26
4.
Before Gas & TV
5:50
5.
Monteleone
3:39
6.
Cleaning My Gun
4:43
7.
The Car Was The One
3:56
8.
Remembrance Day
5:06
9.
Get Lucky
4:34
10.
So Far From The Clyde
5:59
11.
Piper To The End
5:47
--- Non-Album Track ---
12.
Early Bird
5:35
13.
Time In The Sun
2:52
--- Limited edition CD ---
14.
Pulling Down The Ride
15.
Home Boy
16.
Good As Gold


All songs written by Mark Knopfler

Personnel:
Mark Knopfler – vocals and guitars     Richard Bennett - guitars     John McCusker – violin and cittern     
Guy Fletcher – keyboards, strings arranged     Matt Rollings – keyboards
Glenn Worf - electric and upright bass     Danny Cummings – drums

Additional musicians:
Rupert Gregson-Williams – conducting strings and French horns
Phil Cunningham – accordion (tracks 1, 4, 10 and 11)
Michael McGoldrick – flute and whistle (tracks 1, 4, 10 and 11)

Released: 14 September 2009     Recorded at: British Grove Studios, London
Mastered: Bob Ludwig at Gateway Mastering Studios, Portland, Maine     Producer: Mark Knopfler
Co-producer/engineer: Guy Fletcher and Chuck Ainlay, assisted by Rich Cooper and Martin Hollis 

Year: 2009     Format: CD     Label: Mercury     Tracks: 11     Total Time: 52:12

                





---



Mark talks about Get Lucky .....
When they agreed the unwritten law that time-honored artists with brilliant track records get less creative as they go on, Mark Knopfler obviously wasn't paying attention. He was too busy writing, recording, touring and enjoying it all.
So as we approach the end of the first decade of the 21st century, and other multi-million-sellers nudge their careers forward at a snail's pace, Knopfler prepares to release his fifth studio album of the decade, and it's another jewel.
Get Lucky, recorded at his award-winning British Grove Studios in west London and co-produced with longtime cohorts Chuck Ainlay and Guy Fletcher, is a beautifully crafted exploration of a lifetime of musical roots.
Fluently combining folk and blues with his original songwriting, the whole containing personalized British ingredients and vivid observational lyricism.
Gratefully seizing on this elongated hot streak of productivity, the Grammy Award-winning guitar hero of more than 30 years' standing displays his usual flair for understatement. "I just keep turning up," he says. "That's exactly what it is, and I think you appreciate it a lot more as you get older. I used to take it for granted when I was a kid. I don't think I respected whatever talent I had enough—I had to learn that. So now I just get behind the plough. That's how things happen."
"I can be easily distracted," he smiles. "That's what the teachers always said about me. But even with that I still manage to be writing away. So I'm still the ragpicker in a way. I've got these things that are coming together, and that are together, and recording too much stuff as well. There's no shortage of stuff hanging around. I could go back in the studio now if the lads were here."
Reinstalled at British Grove, the regular team soon conjured an atmosphere of relaxed artistry. "Between us we get there, that's part of the fun of it," says Mark. "Also I think there's a lot of mutual respect." This time, "the lads" were augmented by feted musicians Phil Cunningham and Michael McGoldrick who linked up with the most recent addition to Mark's lineup, Scottish multi-instrumentalist John McCusker. "They've played before," laughs Knopfler admiringly.
If Get Lucky was a novel, it'd be another of Knopfler's page-turners, full of characters who leap out of the lyrics, like the Glasgow lorry-driver of the opening track "Border Reiver," or the fairground worker and fruit picker of the title song, or his heartfelt remembrance of the great ships in "So Far From The Clyde," or real life tributes to a master guitar-maker in "Monteleone" and the lost uncle he never knew in "Piper To The End."
Those and other themes and characters on the album are viewed through the prism of Mark's childhood, spent in Glasgow until he was eight, when the family moved to Newcastle. "Do we ever get away from our childhoods?" he muses. "Some of the things we're attracted to when we're very small stay with us all our lives."
That's certainly true in his case. "At the bottom of Salters Road in Newcastle, there was a little record shop," he remembers. "One day there was this Fender Stratocaster in the window, and it was just a thing of magic. It was literally nose to the window. I think I was still in short trousers, and that's it, a little boy coming home from school, being completely fascinated by it. I still cross the road now to look into a guitar shop.
"That's what sustains you, and probably what makes me go on is the thrill of trying to make something, just getting something made. That's it. Obviously things do change a little bit, we do grow up to a certain extent, but I try to keep those bits of me young."
The autobiographical thread running through Get Lucky is exemplified by the title track. "The first itinerant person I ever met would sing in soul bands in winter, then work part-time in fairgrounds or 'go pick fruit down south' when the weather turned warm," explains Knopfler. "I was about 15 years old, stuck in school and envious. 'Get Lucky' came from him and other traveling characters I went on to meet in places I'd find myself working short-term, like farms, warehouses, building sites, before I got lucky with my songs."
"Border Reiver" takes its title from the raiders who ran the Anglo-Scottish borders centuries ago. "It's about the hard life of a lorry driver at the end of the '60s. We lived near the Albion works in Glasgow and I'd see drivers dressed like long riders in goggles and trench coats taking out the chassis to test them before they were fitted with their cabs and beds. Albions were known for their quality and 'Sure As The Sunrise' was the company motto."
The song also provides a thematic link to one from the 1978 album that helped make Knopfler's name. "In Newcastle we lived near the A1, the nation's main north-south route," he says, "and at eight years old I was starting to know the liveries of the major haulage companies as their lorries came through town. In the hitch-hiking years of my teens and early 20s, many kind-hearted lorry drivers stopped to pick me up. The song 'Southbound Again' on the first Dire Straits album is about that, going up and down the country and my blossoming romance with London."
On an album where the vibrancy of the characters is matched by the radiance of the instrumentation, the closing piece is the moving "Piper To The End," written for Mark's uncle Freddie. He was a piper of the 1st Battalion, Tyneside Scottish, the Black Watch, Royal Highland Regiment, who carried his pipes into action and was killed with them at Ficheux, near Arras in May 1940, aged just 20.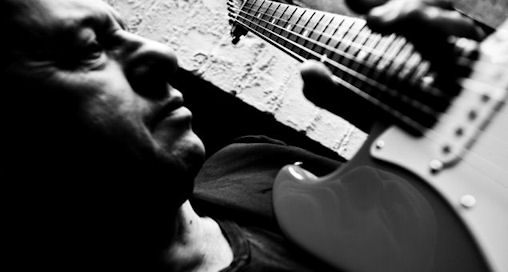 "I didn't know him, of course, but I was close to my uncle Kingsley, my mum's brother. He first taught me to play the boogie-woogie piano, and Freddie was Kingsley's older brother. The pipes always made sense to me, and growing up in Glasgow as well as Newcastle, in my grandmother's home, there were Jimmy Shand records, so the sound of Celtic music always seems familiar to me."
Now Knopfler and the band are looking forward to hitting the road once again in 2010. "It's like being captain of a little fighting ship really, and I enjoy the team thing of being on the road, I enjoy being with the crew. I suppose one of the reasons I like it so much is that I know it's not going to be a year-long thing."
Amid the new material, when the audiences call for the songs that became part of all our lives, he will relish it. "The thing about the old Straits songs is that they are signposts for people's lives. Obviously I'll play them differently here and there to keep it alive and meaningful to me, and away from a cabaret thing. But there are times, like the twiddly bits at the end of 'Sultans,' if you don't do your twiddly bits, the world's not right for people. I like playing the old songs, I wrote them and people like to hear them, it's as simple as that."
In the end, Mark Knopfler thrives on never taking the audience for granted. "I think there's still a place for the game that I'm playing," he muses. "It's not on the same pitch as a lot of other people are playing, mine's over here and theirs is over there, but people still want to hear crafted songs."